The Waiting Room Lounge - NE | Omaha, Nebraska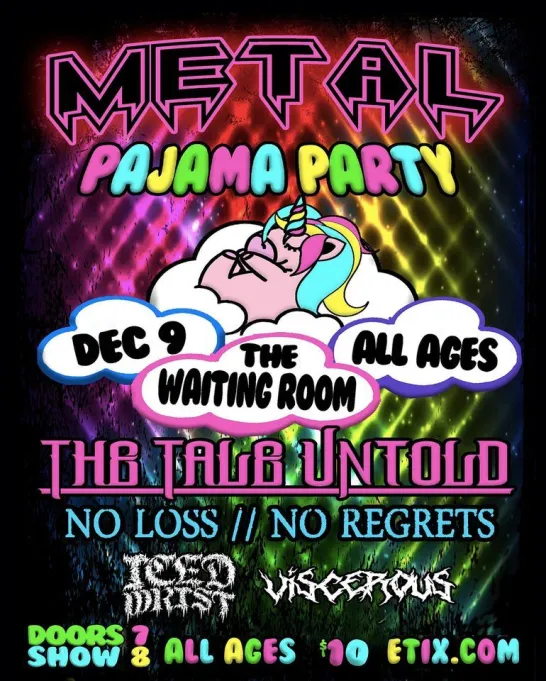 Hey music lovers and night owls! Get ready for an evening of cozy vibes and killer beats at The Tale Untold's Pajama Party Concert! Your favorite indie sensation is hitting The Waiting Room Lounge in Omaha this December 9th, and it's gonna be UNREAL.
Think – your comfiest PJs, warm energy, and a room filled with the band's biggest tracks. From their heart-wrenching "Whispers in the Dark" to the foot-stomping "Rebel Yell" singalong, you'll be swept up in a live show that's serious about fun (but not too serious about dress code).
Imagine: dim lights, the strum of a guitar, lyrics that tug at your very SOUL. Everyone's there for the same reason – the love of music that's more than just notes and words. It's an experience, it's memories, it's The Tale Untold wrapping you up like a warm blanket with their chart-topping melodies.
So, don your best sleepwear and join us for a night where sleepy-time fashion meets electrifying live performances. Don't sleep on this, grab your tickets NOW and let's jam in our jammies! 🎶🌙✨
#PajamaPartyConcert #GetYourTickets
The most iconic heavy metal performers make no compromise with playing only the topnpotch stages in the country, and The Waiting Room Lounge in Omaha, Nebraska stands out as one of the best. The venue offers its guests everything they could possibly demand from an awesome night out in the town. Some of the extras include convenient parking and some of the city's finest drinking and dining spots around the corner so you can start the night fully ready. But then all bets are off once you enter the front door, since The Waiting Room Lounge is the place to be for the most committed of metalheads, with its spacious dance floor and on-site bars to keep you charged throughout the night. You'll have a great view of the show from every angle of the hall and simply can't go wrong with visiting The Waiting Room Lounge. You're just a click away from booking the a night out to remember – don't miss it.